Ohio Leak Detection and the leak inspectors are proud to announce their newest technology in repairing sewer and drain line leaks. After a video inspection of the problem our professional technicians can then determine if Pipe Patch may be a No Dig solution.
Pipe Patch is a C.I.P.P. ( cured in place pipe) repair. A typical job from start to finish can take less than a day and also save from having heavy equipment mess up and dig up the yard or even possibly having to remove buildings or concrete.
Call today to see if Pipe Patch is the right solution for you.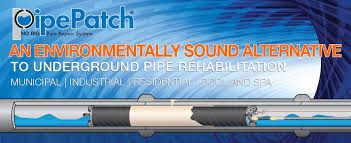 Cured-in-Place Pipe (CIPP)
CIPP Cured-In-Place Point Repair is a process where a liner is inserted into a pipe impregnated with a thermosetting resin, which is expanded and cured to form a tight-fitting liner within the host pipe, a pipe within a pipe. The CIPP process incorporates the existing pipeline into the finished product to produce improved performance of the original pipeline. Although cure times vary due to host pipe material and temperatures, PipePatch is typically cured in 1 to 3 hours.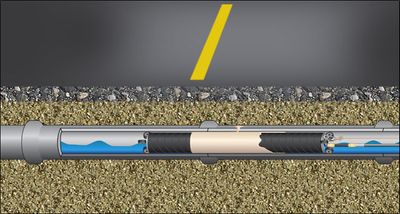 Point Repair
Point Repair is PipePatch's cost saving process of lining only the areas that require repair versus lining the entire length of pipeline. PipePatch's point repair system not only saves material costs but also man-hours. Depending on the pipes diameter, PipePatch requires only 1 to 3 technicians to complete a repair.

Structural Integrity
PipePatch restores structural integrity to damaged pipes and exceeds Specification ASTM F1216 for Cured-In-Place-Pipe (CIPP). This Specification requires our materials to be tested for a minimum service life of 50 years. Our fully cured resin serves as a barrier between the damaged pipe and the flow, or as a stand-alone pipe.
Increased Flow Capacity
PipePatch provides the least reduction of all point repair methods used to rehabilitate pipes. When cured, PipePatch is only 1/8 inch thick. The smooth interior of our product with tapered ends typically improves flow capacity. The smooth interior also provides excellent corrosion and abrasion resistance.