Our company was created to eliminate the need to call different companies - one to find the leak, and one to fix the leak.
Here at Ohio Leak Detection and Leak Inspectors we are your one call leak location and repair solution company. Through on going training and the newest technologies we are able to locate leaks in plumbing, heating, sewers, pools and pretty much any place where your home or business may be leaking.
Once a leak is located, we also have the technical ability and the equipment / tools to repair most all leaks in plumbing, hydronic heating, sewers, gas system and pools. Please do not hesitate to call us 24 hour a day 7 days a week for prompt professional service.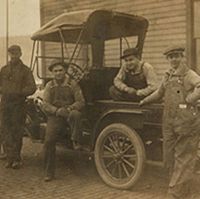 First Generation Wagner Plumbers 1909